As part of our mandate, the W̱SÁNEĆ Leadership Council regularly features W̱SÁNEĆ community members who work to enhance recognition and respect for W̱SÁNEĆ culture.
Self-described as a SENĆOŦEN Language and Cultural Revitalist, Astrologer and Public Speaker, Tiffany Joseph has played an integral and active role advocating for Indigenous language and culture revitalization. She is a former apprentice-teacher at SȾÁUTW̱ SENĆOŦEN,ÁUTW̱ (the Tsawout Language Nest), a certified Pollinator Steward and the former 2019 North Saanich Candidate for Council. Currently, Tiffany is the Food Systems Animator for ŚW̱,ȻENEṈITEL the Indigenous Foods Initiative. 
We caught up with Tiffany via phone in the early afternoon, our conversation gently peppered by quiet murmurs to and from her children.
Tiffany Joseph is a SENĆOŦEN Language and Cultural Revitalist, Astrologer and Public Speaker. Photo from TiffanyJoseph.wordpress.com
Interviewer: Can you tell us what you're working on right now?
Tiffany: 
ÍY SȻÁĆEL. ŚW̱,XELOSELWET ŦE NE SNÁ. ḰOḰELŦEMOT ŦE NE TÁN. Ḵiyam TŦE NE MÁN. ŦIWONEMOT ŦE NE SILE. ȾX̱IHOLEĆEP LE I EṮ Sxenenalh-t I EṮ Skwetsimeltxw-t TŦE NE SELSILE LE. Esch'ech'ewat-tay' (ESĆEĆUOT-TÍ,) I EṮ Nekilus (NEḴÁLÓS) I EṮ Ayasnitat (ÍYOSNÁTOT) ŦE NE ṈEN,ṈENE. 

My name is Tiffany Joseph and my SENĆOŦEN name is ŚW̱,XELOSELWET. My mother is Ina Joseph, her maiden name is Underwood, and she is W̱SÁNEĆ. Her father is late George Underwood and he's from W̱SÁNEĆ. My grandmother is Geraldine Underwood. Her maiden name is Thorne and she is from Quw'utsun. My father is Patrick Joseph. He is Squamish and his parents are late Willard Joseph and late Yvonne Joseph.  Yvonne's maiden name was Paull and her father was late Andy Paull from Squamish. 
Tiffany shares that it's her responsibility as an adult to adhere to the introduction protocol. She elaborates: 
 "When it comes to language revitalization we can now adapt in ways our ancestors weren't allowed to. There are a lot of people who have done advocacy and restoration work to help ensure the ways are unbroken. As a result, there is an opportunity to bring things into space where they belong – but haven't been followed. I follow the introduction protocol to answer the questions: Who are you? Who are your parents? Who are your grandparents? It's the process we use instead of the settler identification of a Driver's Licence or Passport."
The introduction protocol provides a critical context that might otherwise be missed: that Tiffany's work is a continuation of the work of her ancestors. 
"My paternal great-grandfather was said to have memorized every court case involving an Indian, and he never forgot names or faces. My grandma Yvonne Joseph was one of the last L1 speakers of Sḵwx̱wú7mesh Snichim (Squamish Language). George Underwood was a boatbuilder, he built the home his family lived in and farmed the land. He used to hunt, but the gunshots would trigger memories from WWII, so that might be why he ended up fishing. If you go down Mt. Newton Crossroad, there's a cedar tree on the left and that's the place where his boat is. The name of his boat is Kwasen (ȻOSEN), it means star. My family has a relationship with the water, as all W̱SÁNEĆ people do. My grandfather's life of living and working on the water was so strong they called him PUT, SENĆOŦEN for boat,

My mother's mother was part of the W̱SÁNEĆ Homemaker Society; women who were dedicated to taking care of the community. They had to adapt to the colonial system, to try and make sure whatever resources were stolen were reaching the people and not taken. These women would find the funds for the tribal school. I am doing my part, I am remembering to share what was passed on to me. Then the young women can see it and carry it on. It's important for me to note that the work carried out by the W̱SÁNEĆ Homemakers' Society was shared with me from men within W̱SÁNEĆ. And this reflects, to me, the respect and reverence W̱SÁNEĆ men have for women's leadership in our community.

That's where I come from.

My great, great grandmother married a boat builder, that's how she adapted, to love life on the water. Now it's time to adapt to our ways instead. This is why I do the introduction protocol."
Tiffany recited the introduction protocol over 50 times during the Fill Your Basket grant campaign, where she conducted over 50 one on one, in-person grant applications for ŚW̱,ȻENEṈITEL, the Indigenous Foods Initiative. 
Tiffany was asked to come on as the Food Systems Animator due to her experience with land restoration, her participation in ÁLI SDÁLṈEW̱, the indigenous food conference hosted by Tsawout in 2018 and her role as Coordinator of the SṈIDȻEȽ Resiliency project.
(Shown above, a photo of a home garden installation in the works. Photo from the ŚW̱,ȻENEṈITEL, the Indigenous Foods Initiative website)
According to their website, ŚW̱,ȻENEṈITEL, the Indigenous Foods Initiative is a relationship based granting stream which seeks to support land-based, Indigenous-led, Indigenous food system-oriented work. 
The current mandate of the ŚW̱,ȻENEṈITEL, the Indigenous Foods Initiative is to support people to grow healthy, locally originating produce by providing funding, support and education. 
In so doing, the initiative is using a series of processes that adapt to the ways of the W̱SÁNEĆ and their neighbours. 
Tiffany explains: 
"Often, settler-funded and organized programs continue to harm. For example, there aren't that many Indigenous people that have donee or charitable status. The organizations that do so are mostly bands and schools and their money goes to housing and health which is sorely needed. 

Funding for Indigenous foods have historically gone into environmentalism and have often been available to those with Master's degrees. It is such a privilege to have a Master's. Handouts are also problematic. So, to do the grants in a way that adapts to our ways, realistically, we need to do relationship-based work. Because with the other ways, no one will sit and have tea with the applicants or go and meet them in person."
The last initiative, called "Fill your basket" provided 42 individual grants to members of the community who may have relied on Child Tax Benefits or Income Assistance to buy fresh produce. These are the people most negatively impacted by the scarcity and price increases resulting from COVID-19 panic buying. 
Realistically, the last program did much more than fund 42 gardens, as each "individual grant" benefits a family, making the number of people impacted much greater. 
And Tiffany isn't stopping there. At each step of the process, she's revitalizing Indigenous culture, adapting away from colonial ways and helping her community members to do the same.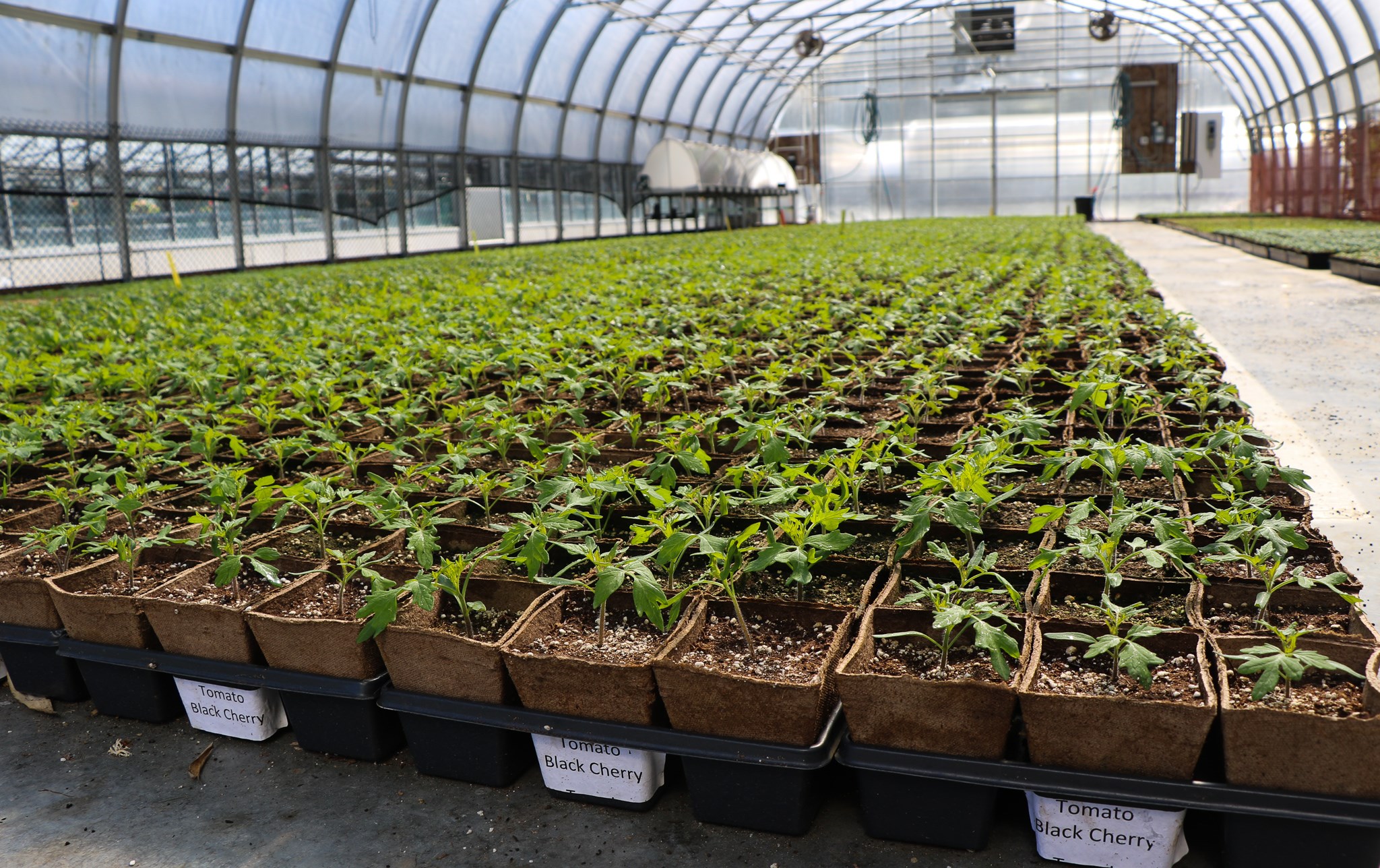 Seedling starts from the City of Victoria are almost ready to be distributed to community members through ŚW̱,ȻENEṈITEL, the Indigenous Foods Initiative
She's working on a program that pairs master gardeners with beginners, geared to help those who don't have moderate skills already. This program builds community ties and can provide troubleshooting tips.
Providing the right level of support is just one of the reasons why seeing people in person is so important. Tiffany shares,
"By helping first-time gardeners get out in the dirt and figure it out, they're able to participate in "making mistakes," where they're not perfect, not the best off-the-bat. There's a leftover from residential schools where making mistakes meant punishment. We are learning and teaching compassion for self and earth."
Beyond these benefits, there are other significant reasons why growing Indigenous plants in Indigenous gardens is beneficial. 
Firstly, native plants replant themselves, in contrast to settler-type produce like carrots which need to be replanted every year. Aside from weeding, the gardens end up being quite low maintenance, which allows for more enjoyment of the food itself. Secondly, Indigenous people have been confined to reserves for over one-hundred years, creating an artificial distance between W̱SÁNEĆ people and their plant relatives. Bringing plants closer to home–or just outside the home–begins to repair that strained connection. Third, by supporting the growth of Indigenous plants, Tiffany helps community members relearn the names of their plant relatives in their local language, thereby revitalizing Indigenous culture and language. 
Tiffany shares her vision: "Grandmothers and great grandmothers can watch their grandchildren and great-grandchildren pick berries again" 
After the interview, she sends over a comprehensive local plant resource, translated into three Indigenous languages. These guides are available for download here.
While the ability to safely meet in person has decreased due COVID-19, the need for access to produce has only increased. The initiative is actively fundraising for the next round of community support initiatives. To learn more or donate, visit the website, here. 
"It's an opportunity to adapt right now – people are buying veggies from Amazon!" Tiffany laughs. 
As the interview wraps up, Tiffany wants to be very clear, this is a community-led initiative:  "What the people want is what leads this. I am all about the plants, but if people want seafood…" You can practically hear her shrug. "Well, $20,000 was raised for Pauquachin so they can clean up their beach to harvest clams again." 
There is a ŚW̱,ȻENEṈITEL Facebook Page available for those who want more information. 
If you are a grantee or Indigenous community member involved in our programs, please join the ŚW̱,ȻENEṈITEL Indigenous Foods Initiative Facebook group. 
If you are a settler-ally wishing to join to learn, the group is public and observable, but to ensure dialogue is between community members and organizers we will keep group membership to people directly involved with the ŚW̱,ȻENEṈITEL initiative
How are we doing?
 "By helping first-time gardeners get out in the dirt and figure it out, they're able to participate in "making mistakes," where they're not perfect, not the best off-the-bat. There's a leftover from residential schools where making mistakes meant punishment. We are learning and teaching compassion for self and earth."