This time of year is traditionally known as ĆENHENEN. 
ĆENHENEN
NIȽ ŚW̱TÁĆELS TŦE HENEN HIȽ ŚW̱DÁLETEṈs E TŦE ÍY QÁLES X̱EṈ OL Ȼs XÁĆEṈs.
TOW̱OL U ṈEN TŦE SĆÁNEW̱E TIÁ ȽḴÁLJ.
MEQ EXIN ŚW̱OX̱s TŦEN QEȽ W̱ILṈEW̱LÁE EṮ ĆELȽTENEM, TEMTEM AXEN, SMO₭EĆ, SDÁYES,
ḰENNES.
NIȽ SU ĆḴEĆEs TŦEN QEȽ W̱ILṈEW̱. SU ṮÁNEḴs KPETTEs TŦE SĆÁLEĆES ḰEL ḰEL E TŦE SYESEs
TŦE ṈENṈENEs E TŦE SȻÁs ĆELÁṈENs.
SU MEQs SÁN XĆIT ȻE NIȽ Es SÁN TŦE ṈENṈENEs ȻE ĆTOLES Es SE ȻE NÁTEṈ Es.
HO ȻENNES TŦE ṈEN S,IȽEN TŦE EȽTÁLṈEW̱SU HIMETs TŦE SĆÁLEĆEs ṈÁTW̱E TŦE ŚW̱SIÁMs
EṈOTEs TŦE SĆÁLEĆEs E TŦE SȻÁs ŚW̱SÍAMs ŦELḴOSTES TŦE MEQ SÁN.
ĆENHENEN-HUMPBACK SALMON RETURNS TO THE EARTH
This moon marks the arrival of the Humpback salmon.
WEATHER
This is the dry weather season, drier than the interior of Canada. Although a good season for
drying Salmon (SDÁL), the grass and forest is parched and all must be careful of grass and
bush fires.
ECONOMIC ACTIVITIES
This is the season for Humpback salmon fishing. Fishing caused us to extend our territories.
For example, we carried out a reef net fishery at Tsawassen and Point Roberts and
maintained shore camps there.
CULTURAL ACTIVITIES
The success of the salmon fishery enabled those most fortunate to celebrate and share their
success with others. This season was especially marked by large family, village, and
neighbouring village gatherings, including gatherings where traditional sports were held.
This was a time to reaffirm family ties and history and hold other gatherings as well. These
included SṮÁNEK (memorial potlatches), namings, weddings, and societal ceremonies (e.g.
blessings).
Potlatching enabled the more fortunate to share and distribute goods with those less
fortunate than themselves. To become wealthy was honourable and to share one's wealth with
one's neighbours was a traditional expression of W̱SÁNEĆ values.
This illustration of the W̱SÁNEĆ calendar, SḴÁU ȽTE, by artist MENEŦIYE is located on S,DÁYES (South Pender Island). The illustration depicts the four seasons, the 13 moons and the culturally important plants, food, medicines, animals and marine life.
Based on the sacred interconnectedness of all things, the observation of  the 13 moons is part of W̱SÁNEĆ natural law. Each of the 13 moons provides guidance as to what cultural and economic activities are best suited for the time of year, as well as what weather to expect and what food is most abundant.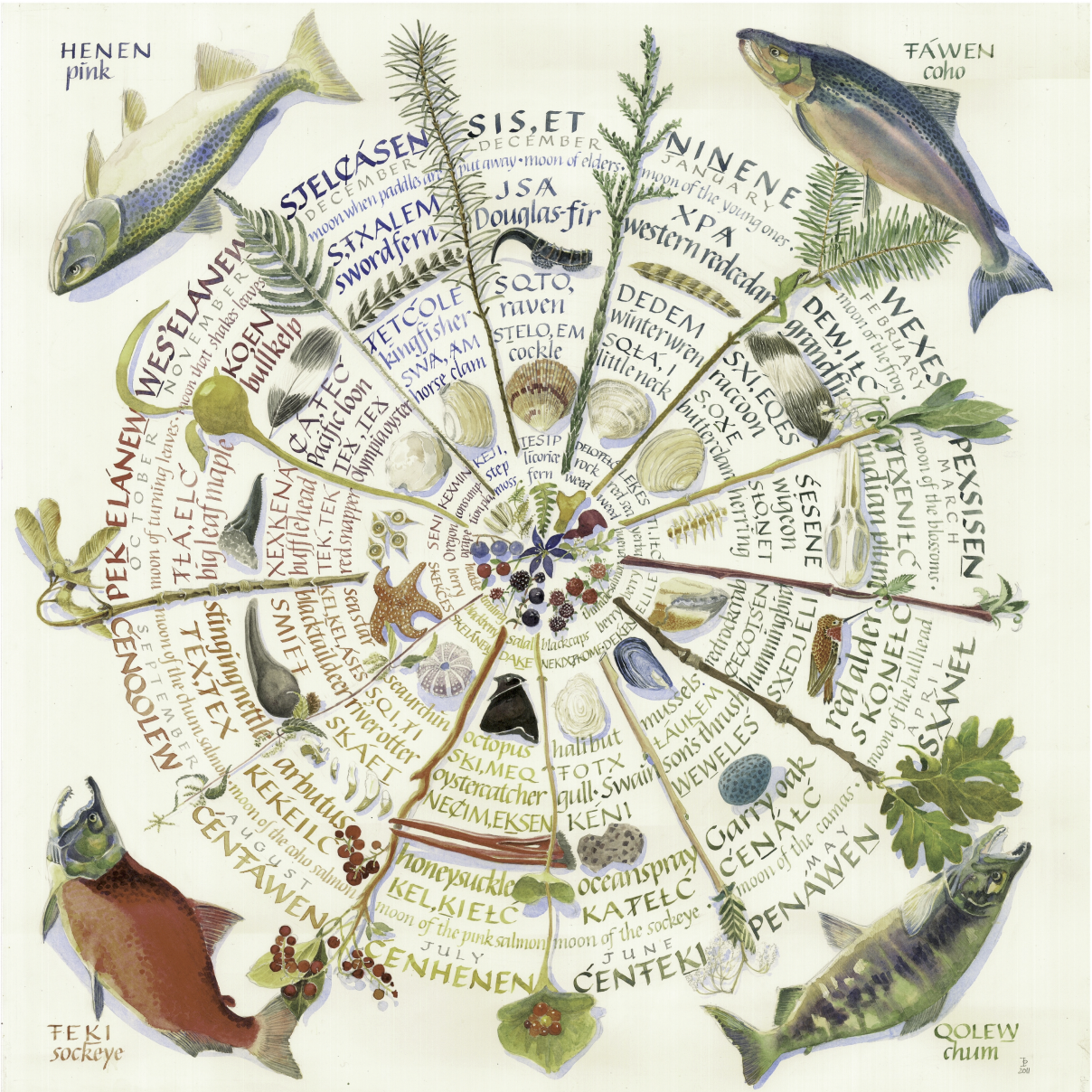 Artist Briony Penn, copyright Tsawout First Nation.
"It was not our way to separate these activities when we lived a traditional life because all was sacred to us. Our art, language, spirituality and our everyday activities were all one. In our homes and in our longhouses we continue to observe the wisdom of the past."
~The Saanich Year, by Earl Claxton (YELḰÁTŦE) and John Elliott (STOLȻEȽ).
The 13 moons don't line up exactly with the Gregorian 12-month calendar, but loose associations between months and the moons can be made, as shown above.