This time of year is traditionally known as ĆENQOLEW
ĆENQOLEW
NIȽ ŚW̱TUOs TÁĆEL TŦE QOLEW̱E TIÁ, ȽḴÁLJ. ȻȽ ENÁ, QENETES TŦE STOLU ŚW̱LÁEs SE Ȼs
SÁȻES TŦE ḴELEXs.
I U TUE EMNIEṈ TŦEN QEȽ W̱ILṈEW̱ṮELÁEṈ E TŦE SMÍEŦ I TŦE ṈIED. ŚELṈESTÁLs E TŦE ÁYET.
NIȽ U HOI OL I ȽȻOUES TŦE QOLEW̱ȻE ENÁs JÁN U HOI OL ÍY S,ŚÁMENEȽ EN SU ÁLET TŦEN
SKELOEṈ EN SȻÁ TW̱TIÁ, ĆENȾOȽEṈ. TES E TIÁ, SU YÁ's TŦEN SĆÁLEĆE ȽEMEȾEṈ E TŦE
ḰEMĆOLS LÁE EṮ PELḰȾÁEṈ.
NIȽ LEPLIT ȽTE TŦE ŚNÁEM HO NI TŦE SQȺ U STÁṈ EN SU ḰÁNES TŦE ŚNÁEM NIȽ LÁT ȻE EWE
Es Ȼs TÁĆELS SĆÁNEW̱I NIȽ TŦE SNÁEM Ć ĆÁ NIȽ TŦE ŚNÁEM QENT TŦE MEQ W̱ILṈEW̱.
Here's how to pronounce ĆENQOLEW̱
ĆENQOLEW̱-THE DOG SALMON RETURN TO THE EARTH
This moon marks the arrival of the Dog Salmon.
WEATHER
The rainy weather returns and the winds have become unpredictable. The creeks and rivers
rise enough for the Dog Salmon to spawn.
ECONOMIC ACTIVITIES
Hunting for deer and grouse was still ongoing. This was also the best season and weather
conditions for cod fishing. Dog Salmon were the last of the salmon runs to return and we
carried out this fishery at Goldstream. Dog Salmon was easily dried or smoked and was the
last of the preserves to be stored away.
The Langford area was excellent for cranberries, blueberries, and grouse hunting.
CULTURAL ACTIVITIES
If the salmon run was late, the ŚNÁM (spiritual leader) was brought in to hold a ceremony to
call the salmon. The ŚNÁM would also advise the family captains of the correct protocol so as
not to offend the Salmon People and to ensure that the salmon returned to the rivers.
This illustration of the W̱SÁNEĆ calendar, SḴÁU ȽTE, by artist MENEŦIYE is located on S,DÁYES (South Pender Island). The illustration depicts the four seasons, the 13 moons and the culturally important plants, food, medicines, animals and marine life.
Based on the sacred interconnectedness of all things, the observation of  the 13 moons is part of W̱SÁNEĆ natural law. Each of the 13 moons provides guidance as to what cultural and economic activities are best suited for the time of year, as well as what weather to expect and what food is most abundant.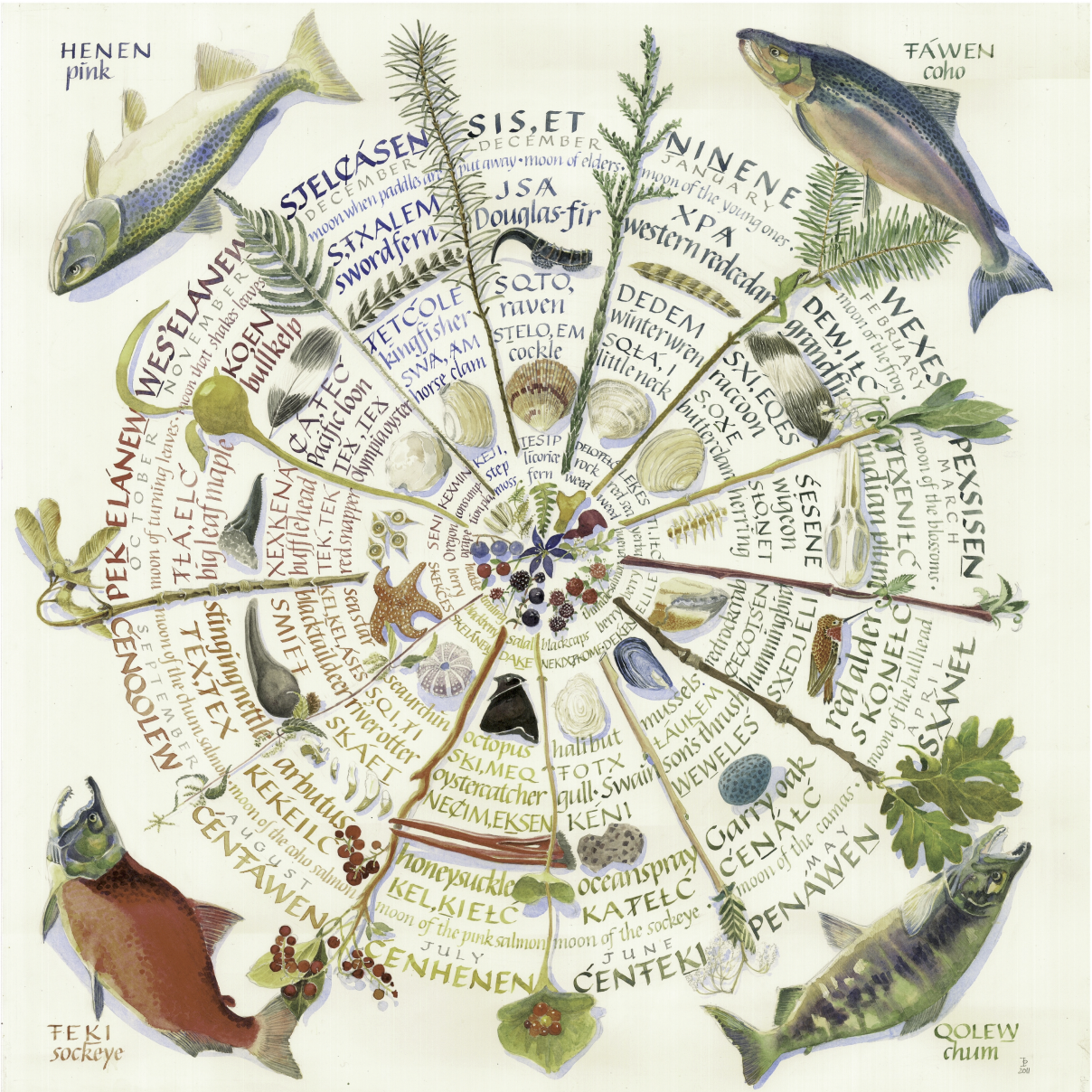 Artist Briony Penn, copyright Tsawout First Nation.
"It was not our way to separate these activities when we lived a traditional life because all was sacred to us. Our art, language, spirituality and our everyday activities were all one. In our homes and in our longhouses we continue to observe the wisdom of the past."
~The Saanich Year, by Earl Claxton (YELḰÁTŦE) and John Elliott (STOLȻEȽ).
The 13 moons don't line up exactly with the Gregorian 12-month calendar, but loose associations between months and the moons can be made, as shown above.