This time of year is traditionally known as ĆENŦÁWEN.
ĆENŦÁWEN
ĆȽ ENÁ TÁĆEL TŦE SȽEMEW̱ĆEḴSOT TŦE STOLU ȻNIȽs LÁSETs TŦE STOLU E TŦE SĆÁNEW̱Ȼs
TÍYELs.
ȻNIȽs ŦOṈs TŦE ÁYET TW̱E ŚELEṈ E TŦE ȾEMEȻE ȻNIȽs ELXOTEṈs TŦE XIW̱E ṈÁLṈELs TŦE
ȾEMEȻE.
ȻȽ YÁ IȾȽOṈESET TŦE SȻÁĆEL ȻNIȽs YÁ,s TŦE SWO,EU,LES ŦOṈ EMNIEṈ E TŦE SMÍEŦ.
NIȽs YÁ,s TŦE SȽENȽÁNI ELXOTEṈ TŦE KEXMIN ȻNIȽ ŚW̱HÁQs TŦE W̱ILṈEW̱E TŦE SMIȽE ȻȽ
ENÁ, W̱ḰELWEȽ TŦE SJELW̱EṈ.
ĆENŦÁWEN-THE COHO SALMON RETURN TO THE EARTH
This moon marks the arrival of the Coho Salmon.
WEATHER
The first rains begin to break the drought in the streams and rivers/creeks and this enables
the salmon (which have gathered in the inlets) to begin their spawning journey.
ECONOMIC ACTIVITIES
This is a good moon for cod fishing. Traditionally the sea urchins were used as bait for
Tommy Cod and the Tommy Cod were used as bait for the bigger Ling Cod. Ling Cod can be
lured to the surface with bait alone and speared. They are so anxious to protect their nests
they would take bait, even without a hook.
As the weather cools, the rains come and the forest is renewed once again and deer hunting
begins.
This is also a good month to harvest the Hog Fennel (KEXMIN) which is used in a variety of First
Nations medicines.
This illustration of the W̱SÁNEĆ calendar, SḴÁU ȽTE, by artist MENEŦIYE is located on S,DÁYES (South Pender Island). The illustration depicts the four seasons, the 13 moons and the culturally important plants, food, medicines, animals and marine life.
Based on the sacred interconnectedness of all things, the observation of  the 13 moons is part of W̱SÁNEĆ natural law. Each of the 13 moons provides guidance as to what cultural and economic activities are best suited for the time of year, as well as what weather to expect and what food is most abundant.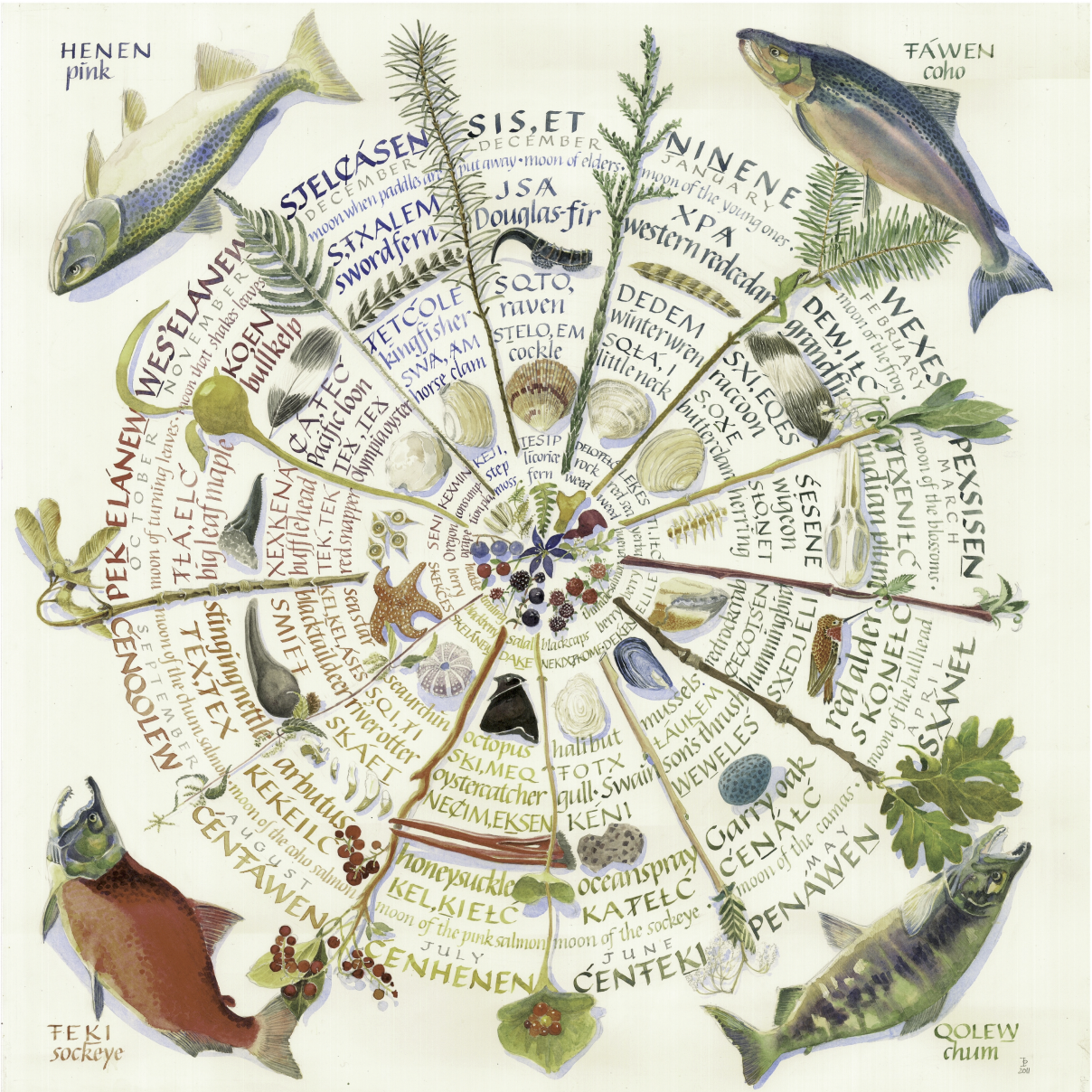 Artist Briony Penn, copyright Tsawout First Nation.
"It was not our way to separate these activities when we lived a traditional life because all was sacred to us. Our art, language, spirituality and our everyday activities were all one. In our homes and in our longhouses we continue to observe the wisdom of the past."
~The Saanich Year, by Earl Claxton (YELḰÁTŦE) and John Elliott (STOLȻEȽ).
The 13 moons don't line up exactly with the Gregorian 12-month calendar, but loose associations between months and the moons can be made, as shown above.