This time of year, around what is now called November, is traditionally known as WESELÁNEW – Moon of the Shaker Leaves 
W̱ESELÁNEW̱
ȻNIȽs IYAḴs TŦE SȻÁĆEL CȽs ENÁ, ȻESȻOU TŦE ĆEḴ SPW̱ELO ȻNIȽ EN ŚW̱HOÍ ȻENs HÁQEW̱
ȻNIȽ ENs LÁSET ȻEms SJELȻÁSEṈ.
ȻNIȽs PIW̱EṈs TŦE SȾOȾȽEs TŦE SḴALÁLṈEW̱W̱SITEṈ EṮ W̱ESELÁNEW̱SQÁ, ȻENs HÁUE ṮÁ,. U
TW̱OMET ŚW̱OL ȻENs KEPT TŦEN SIȽEN STÁSEȽ E TŦEN ÁLEṈ.
NI TŦE YÁ, TÍYEL EMNIEN E TŦE KEYIEĆ EȻ TUOs ȻESȻOU TŦE ṈAḴE YÁ, TELSENETEṈ NIȽ Ȼs
ÍYs ȾOȽEṈ EW̱E Ȼs ḴELELs SȽIḰs TŦE KEYIEĆ.
ȻNIȽs ĆEḰUSEs TŦEN QEȽ W̱ILṈEW̱ȻNIȽ ENs LÁSET ȻENs MIȽE.
This is the moon of the big winds that come and change the season to Winter. The wind comes and the leaves are ready to fall. Turbulence is felt in the waters and the skies. The earth is cooling down. Winter fires were lit and this was the beginning of Winter gatherings.
WEATHER
The days became cooler and travelling in food gathering territory was limited. The winds that came with this moon were a signal to move to the winter village as the open sea became dangerous for movement in open boats.
ECONOMIC ACTIVITIES
Most foods were now in storage for the Winter. In the WESELÁNEW moon, fishing was undertaken mostly in the safety of local waters, close to the village sites. The W̱SÁNEĆ Peoples formed hunting parties and moved West into the mountains to hunt elk, but only after the first snowfall as it was easier to track an elk if it was wounded. In this way no meat would be wasted.
THINGS TO THINK ABOUT:
What seasonal changes occur where you live?
How does the direction of the wind affect the climate?
What are the effects of pollution and global warming on fish and wildlife?
This illustration of the W̱SÁNEĆ calendar, SḴÁU ȽTE, by artist MENEŦIYE is located on S,DÁYES (South Pender Island). The illustration depicts the four seasons, the 13 moons and the culturally important plants, food, medicines, animals and marine life.
Based on the sacred interconnectedness of all things, the observation of  the 13 moons is part of W̱SÁNEĆ natural law. Each of the 13 moons provides guidance as to what cultural and economic activities are best suited for the time of year, as well as what weather to expect and what food is most abundant.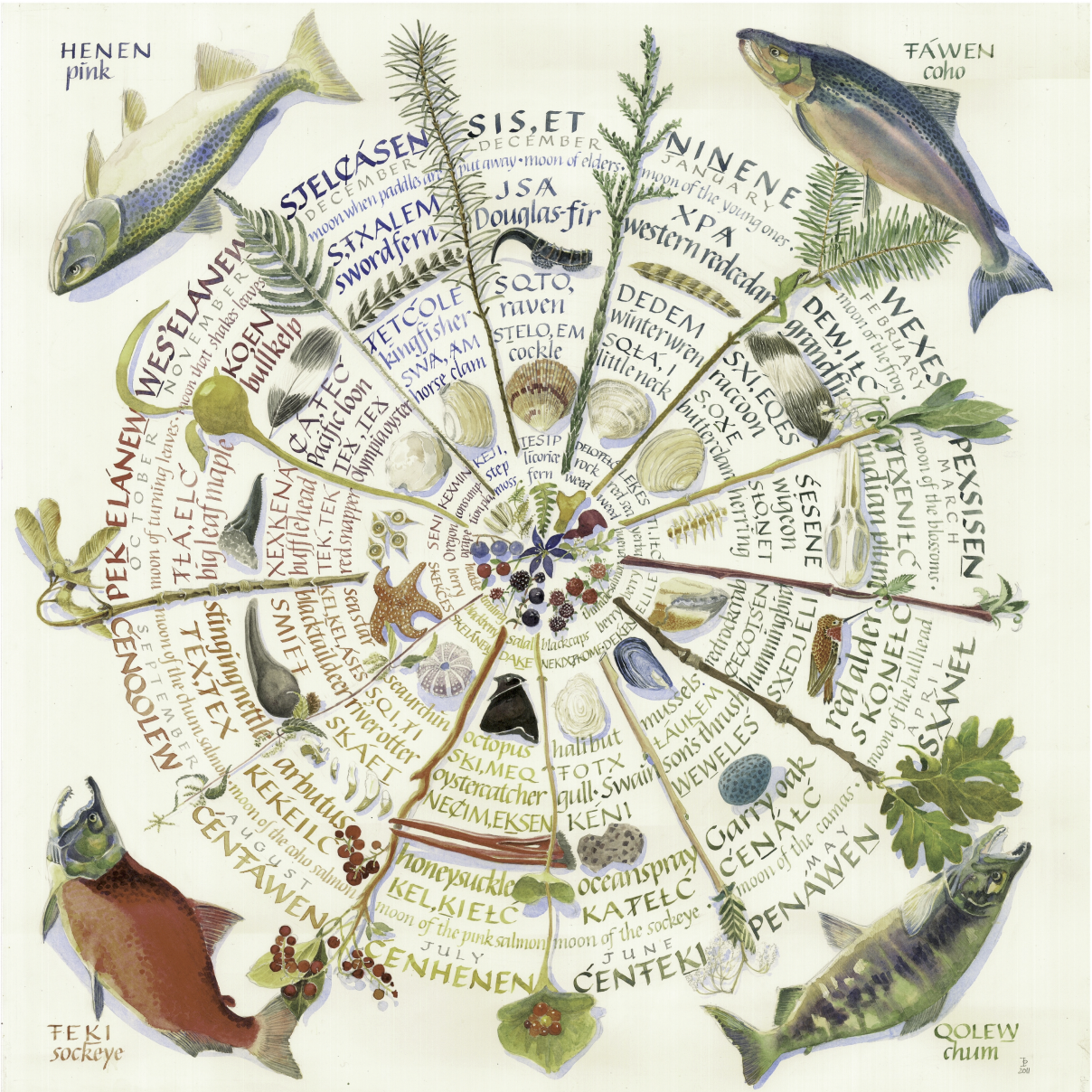 Artist Briony Penn, copyright Tsawout First Nation.
"It was not our way to separate these activities when we lived a traditional life because all was sacred to us. Our art, language, spirituality and our everyday activities were all one. In our homes and in our longhouses we continue to observe the wisdom of the past."
~The Saanich Year, by Earl Claxton (YELḰÁTŦE) and John Elliott (STOLȻEȽ).
The 13 moons don't line up exactly with the Gregorian 12-month calendar, but loose associations between months and the moons can be made, as shown above.