The WLC is pleased to celebrate further progress in reclaiming traditional Language, Arts and Culture across W̱SÁNEĆ territory, this time on Mayne Island. 
SENĆOŦEN language expert, J,SIṈTEN (Dr. John Elliott), has worked with The Mayne Island Museum and The Mayne Island Agricultural Society for months to create interpretive outdoor signage.
The signs feature W̱SÁNEĆ art and are written in both SENĆOŦEN and English. Installations describe the area and its cultural significance, historic context, SENĆOŦEN name and uses of various sites by W̱SÁNEĆ people. 
"This area is called Á,LELEṈ, meaning village place in SENĆOŦEN, the original language of the people here. In the 1700s this island we call S,ḴŦAK came into our W̱SÁNEĆ family in a leadership duel. So, we have been connected to this island for quite a few years and have taken care of it in a good way." J,SIṈTEN (Dr. John Elliott)
The WLC, representing Tsartlip, Tseycum, and Tsawout First Nations, has reviewed and issued approval of the signage.
The Unveiling of the W̱SÁNEĆ "Saltwater People" Exhibit Panels  and celebratory luncheon will occur on September 28th at 12pm. W̱SÁNEĆ Singers, WLC Chiefs and Councillors, and artists Charles Elliott and Chris Paul whose work is featured in the outdoor exhibition will gather for food and speeches.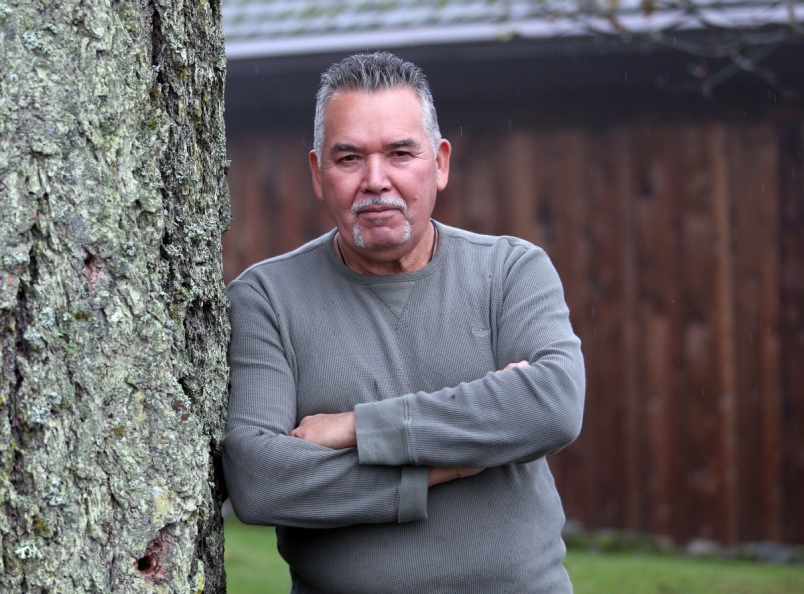 One of many recent wins in promoting respect for language and heritage
This latest win comes on the back of the restoration of the name ȽÁU,WELṈEW̱  to the area previously called John Dean park on June 3rd, 2019. This restores the historic and sacred significance of the area, especially for the young grade four students who petitioned for the restoration.
The WLC is pleased to continue to promote W̱SÁNEĆ Language, Arts and Culture in both urban and rural settings. 
This latest installation on Mayne Island is part of the broader movement among W̱SÁNEĆ artists and cultural advocates that saw last fall's Blanshard Street / Ministry of Health installation of the 7.5 metre totem pole that took brothers Tom and Perry LaFortune the entire summer to carve.
Master carvers and brothers Perry and Tom LaFortune say the pole includes a raven, a messenger of good news; an owl, which can see both worlds; and a frog, the conscience of the community.(Province of B.C.)